Autor: Susan Masino
Idioma: Português
AC/DC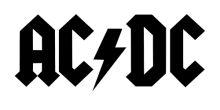 ---
---
---
2ª EDIÇÃO / REVISTA E AUMENTADA
Em Português

LET THERE BE ROCK - A HISTÓRIA DOS AC/DC
Susan Masino


A autora Susan Masino traça as raízes da banda
desde o início nos anos Setenta em Sydney, na
Austrália, do desbravamento do mainstream
nos Estados Unidos até à morte devastadora
de Bon Scott, em 1980. Logo após a tragédia,
a banda reuniu-se novamente e regressou aos
tops das tabelas com o seu novo frontman, Brian
Johnson, e com o seu álbum marcante, Back in
Black. Ao longo dos anos, os AC/DC continuam
a sua demanda pela conquista de novos fãs, e
aparentemente, nem a perda de um membro vital
da banda os irá fazer abrandar o ritmo.
A partir de uma compilação de entrevistas
efectuadas à banda nos últimos 40 anos, assim
como, de dúzias de novas entrevistas feitas a
outros músicos e amigos da banda, a verdadeira
história dos AC/DC é agora revelada.
"Com ou sem Malcolm, os AC/DC vão continuar
a fazer o que fazem melhor, que é escrever, gravar e
executar algumas das melhores músicas de rock and roll
alguma vez criadas. Daqui a quarenta anos, a música
dos AC/DC ainda soará com tanta vitalidade como
hoje. Podem sempre contar com isso".
In Prólogo
Novembro de 2020
Páginas: 342
Colecção: Música A Ferro e Aço
Dimensões: 145 x 230 mm
PVP: € 18.90
LET THERE BE ROCK
é a história definitiva da
ascenção dos AC/DC ao auge
da estratosfera do rock 'n' roll.
Saiba como este grupo de
companheiros Australianos se
tornou numa das mais lendárias
bandas de rock da história.